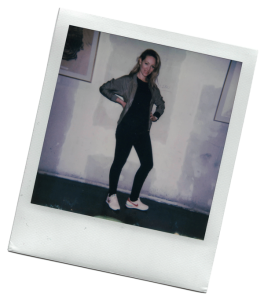 Nina Wichtl
+43 699 119 800 25
office@ninawichtl.com
Starting 2002 Nina Wichtl has been working in the production sector for commercials, feature films and television in Vienna, followed by an international career in Buenos Aires from 2006 to 2008. This period was much influenced by her work for international advertising productions, shot in Argentina at that time. The focus of her role within these projects was production coordination and servicing international clients.
Returning to Austria in 2008 she started to work in art department.
Due to her experience in art department, production and working with international clients she can easily relate to different spheres of the production process with creative inputs. Over the years she has developed a special eye for the one-of-a-kind that makes the difference for your production.
Since 2016 Nina Wichtl is working as an art director.
Clients:
Milka, VW, BMW, Subaru, Skoda, Molson Dry Beer, Lindt, Movistar, Yesss, Edelweiss, A1,  Libro, Schärdinger, Mömax, Persil, Samsung, Schogetten, Lotto, Win 2 Day, Telekom, Stiegl, Lopoca, Philips, Mc Donalds, xxx Lutz, Erste Bank, DM, Billa, Merkur, T-Mobile, Ja-Natürlich, Bellaflora, Bahlsen, EVN, Ferrero, Nöm, KIA, WIFI, Obi, Lidl Kampagne2017, Lidl Kampagne 2018, Lidl Kampagne 2020, Hofer Kampagne 2019, Hofer Kampagne 2020, Rauch, Teekanne, Uniqa, Bipa, Union Investment
Movies:
Mission Impossible 5 | Director: Christopher McQuarrie
Downhill | Director: Nat Faxon , Jim Rash
Copstories | Director: Christopher Schier
Bad Fucking | Director: Harald Sicheritz
Die Vermessung der Welt | Director: Detlev Buck
Der Fall Wilhelm Reich | Director: Antonin Svoboda
Oktober November | Director: Götz Spielmann
Vorstadtweiber | Director: Sabine Derflinger
Soko Donau 8-9 | Director: Manuel Hendry | Robert Siegl
Ugly | Director : Juri Rechinsky
Madame Nobel | Director: Urs Egger
Pokerface | Director: Erhard Riedelsperber
Leben | Director: Barbara Albert
So much for Justice | Director: Jansco
Snow White | Director: Samir
Die Patriarchin | Director: Carlo Rola
August der Glückliche | Director: Joseph Vilsmaier
Familie gesucht | Director: Urs Egger
Hochwürden 3 | Director: Otto Retzer